Levaquin Lawsuit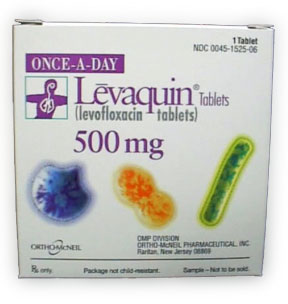 Levaquin is in a class of antibiotics called fluroquinolone, which are drugs approved for the treatment or prevention of certain bacterial infections. Levaquin, a powerful antibiotic used to treat lung, sinus, skin and urinary tract infections, has been linked to serious side effects, including increased risk of tendinitis and tendon rupture. The Stenger Law Firm, LLC is offering free consultations to people nationwide who have suffered side effects or complications after receiving the antibiotic Levaquin.
Made by Ortho-McNeil-Janssen Pharmaceuticals, Levaquin (known generically as levofloxacin) was approved by the U.S. Food and Drug Administration to treat bacterial infections in many parts of the body. The drug can be administered in the form of a pill, as an injection or in an intravenous drip.
On July 8, 2008 the FDA issued an alert requiring Ortho to add a black-box warning to Levaquin's label. The warning advises patients that Levaquin increases their risk of tendinitis – inflammation or irritation of a tendon, one of the thick fibrous cords that connect muscle to bone. Some patients who have taken Levaquin have reported the rupture of tendons in the shoulder, hand and heel. It could be Achilles Tendinitis, Joint Tendinitis, or a Rotator Cuff Injury.
Levaquin Tendon Rupture
The risk of tendinitis and tendon rupture is increased in patients older than 60; in kidney, heart, and lung transplant recipients; and in patients given Levaquin in conjunction with steroid therapy.
Because Levaquin does not work against viral infections, the FDA has warned that the drug should only be used once a bacterial infection has been proved or is strongly suspected.
Anyone who has been given Levaquin and experiences pain, swelling or inflammation in the area of a tendon should stop taking the drug and contact his or her physician. Patients who experience a snapping or popping sensation in the area of a tendon, note bruising right after an injury in the area of a tendon, or are unable to move or bear weight after taking the drug should also contact a doctor immediately. Patients may experience tendinitis or tendon rupture while taking Levaquin or long after drug therapy has ended.
Levaquin Tendon Injury
In addition to tendon rupture injuries, our Levaquin lawsuit attorneys are investigating cases of anyone who has developed Lyle's Syndrome (Toxic Epidermal Necrolysis or TEN), is a serious skin condition, sometimes fatal, which is caused by a reaction to medication.
If you or a loved one has suffered a serious complication after taking Levaquin, contact the attorneys at The Stenger Law Firm, LLC for your free consultation. We will be representing clients nationwide in a Levaquin Lawsuit.