Yaz – Yasmin Lawsuit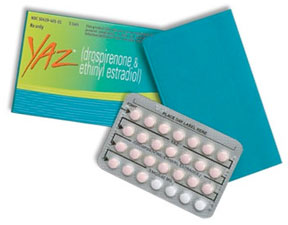 Yaz
and Yasmin are two types of birth control pills that contain the same estrogenic compound, ethinyl estradiol, which has been used in "the Pill" since the 1970s, but the progestin in Yaz and Yasmin is new. Yaz and
Yasmin
both contain drospirenone, a "fourth generation" progestin. No other birth control pills contain drospirenone, except for a recently approved generic version called Ocella.

Yaz and Yasmin birth control pills are both manufactured by Bayer Healthcare. Yasmin was initially manufactured by Berlex Laboratories, Inc and/or Berlex, Inc. which was acquired by Bayer in 2006. Bayer then began manufacturing and marketing a similar drug, Yaz. The generic Ocella is marketed and distributed by Barr Laboratories, Inc.
From the first quarter of 2004 through the third quarter of 2008, well over 50 reports of death among users of Yaz and Yasmin have been filed with the FDA. These include numerous deaths with reported cardiac arrhythmia, cardiac arrest, intracardiac thrombus (blood clots in the heart), pulmonary embolism (blood clot in the lungs), and stroke in women under the age of 50. Some of the deaths have occurred in women as young as 17 years old. If you feel you have a Yasmin or Yaz lawsuit related to injuries suffered by you or a loved one please fill out the form below for a free case evaluation.
Yaz Side Effects
Yaz side effects are the result of Drospirenone, which may act as a diuretic, causing dehydration and increased potassium levels in the blood. Since potassium acts as a key control in cardiac rhythm, this imbalance can cause hyperkalemia and heart rhythm disturbances.
This process can result in the following Yaz side effects:
Sudden Death
Stroke
Gall Bladder Disease
Gall Stones
Heart Attack
Deep Vein Thrombosis (DVT)
Pulmonary Embolism (PE)
Permanent Hair Loss
Liver Tumors
Kidney Failure
Pancreatitis
May be linked to Pancreatic Cancer
Yaz Injury Attorney
You should consider a Yaz Injury Attorney if you or a loved one suffered from these or other serious side effects or sudden death while using Yaz, Yasmin, and Ocella. A Yaz lawyer from the Stenger Law Firm, LLC can help you determine if you are entitled to financial compensation. Your first step should be to contact your doctor to determine if you are at risk. Your second step should be to contact the Stenger Law Firm, LLC to determine if you are entitled to take legal action against the manufacturers.
Complete the Free Case Evaluation form below or call us toll-free at (888) 665-0077 to schedule your free case review.